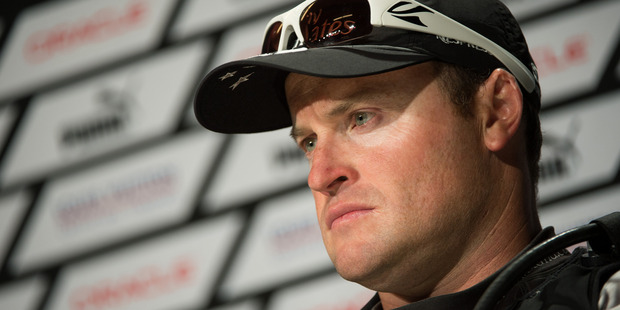 With a minimum of fanfare, Team New Zealand recently appointed just the third skipper in their 20-year existence.
The fact Glenn Ashby is not a New Zealander and not even a helmsman has created no ripples. Probably it is because the manner of his predecessor's departure captured all the headlines; possibly it is because he's such a driver of the team culture that he is viewed among his teammates as an honorary Kiwi.
"I'm honoured to have the team put me in this position," the 37-year-old Victorian, who is also director of sailing, said. "I really feel as a group we're in a really strong position going forward and that's one of the reasons I rejoined Emirates Team New Zealand."
It wouldn't have been because of money. Ashby's multihull pedigree – he was an Olympic silver medallist in the Tornado and the owner of eight consecutive A-Class world championships – and form meant he was a hot commodity after the last America's Cup.
He could have signed for a lot more with other teams, but eventually chose to stay because, well, he liked the place.
"Having come from Oracle in the [Valencia] campaign, the Team New Zealand culture suits me very well.
"The work ethic, the culture of the team where everyone has everybody's back and we crossover [between design, build, shore and sailing] to make sure no stone is unturned in any department is something I really enjoyed.
"It was a big influence for me re-signing. While things have been tough over the past 12 months, I [believe] that the people who are really important to the team are still with the team. It gives us the opportunity to step forward and make some big gains.
"Culturally, Team New Zealand is the strongest team in the America's Cup at the moment."
That might be surprising to hear given that there has been a big, black cloud hovering over Halsey St that has proved difficult to shift. The threat of closure if more Government money wasn't forthcoming did not play out well and the departure of popular skipper Dean Barker was messier than mealtime at a daycare centre, but Ashby's optimism remains undimmed.
After the first week of racing in the America's Cup World Series, which saw Team NZ finish a creditable second at Portsmouth, his belief has increased. This was his first regatta as skipper and wunderkind Peter Burling's first time at the helm and he liked what he saw.
"I recognised three or four years ago that continuing to raise the bar right through our sailing programme was really important. He [Burling] was recognised not just by myself, but a lot of the other team members as well. Peter and Blair Tuke were the sort of guys with the attributes we were looking for going forward.
"They were certainly identified as huge talents … . They're at the top end of their [49er] Olympic sailing programme and in the high-performance world of yachting that we're now in, this type of sailing really suits those younger guys."
Ashby said that as a wing trimmer, he had no aspirations to be skipper. Certainly the move has caught some by surprise, though its logic is hard to fault. While it is normal for the helmsman to be skipper, Team NZ bosses feel there is already enough pressure on Burling, 24, without him having to deal with the peripheral issues.
Finally getting back on the water made the elevation feel more real, Ashby said.
"Absolutely. For me, being a yachtsman, the racing side of things for me is the thing that makes me tick.
"The last America's Cup, that was tough how it ended, and the past 18 months have been tough, but that's sport, that's life, and I've never been one to shy away from a challenge."
Glenn Ashby
• Just Team NZ's third skipper.
• Hails from inland Bendigo, Victoria.
• Lives at the Mornington Peninsula, Australia, and Pt Chevalier, Auckland.
• Silver medal at the 2008 Olympics with Darren Bundock.
• Multiple multihull world champion.