Surprise 80th Birthday Party for the Jardine twins in Lymington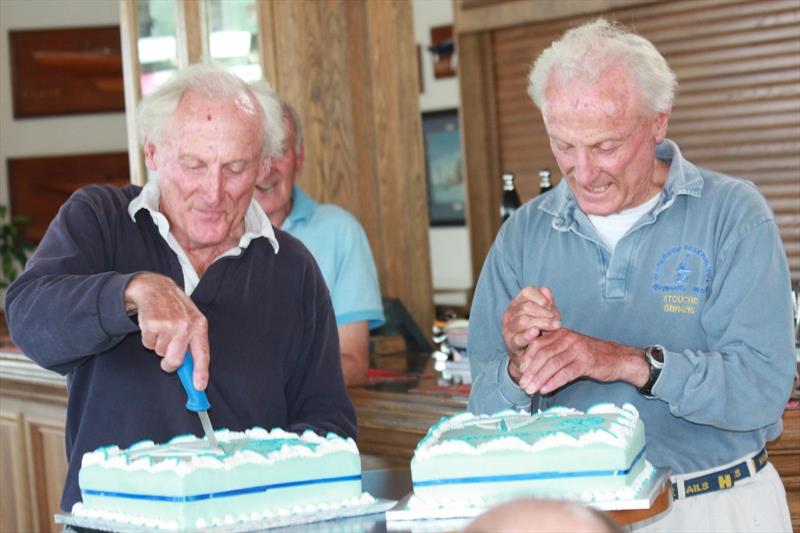 Stuart & Ado Jardine at their surprise 80th Birthday Party
Lymington sailing twins Stuart and Ado Jardine received a shock when they stepped ashore after Wednesday afternoon XOD racing in Lymington this week when they found a surprise 80th birthday party had been organised for them at the Royal Lymington Yacht Club.
The legendary pair, who have both sailed at Olympic level with Ado winning bronze in the Mexico 1968 games, are still winning races as they enter their ninth decade.
Fellow sailors presented the pair each with a bucket and line to use as a sea-anchor to slow them down! Two huge cakes were then cut and served to all and the twins thanked everyone for organising the party which genuinely came as a complete surprise to the pair.
In the last 15 years, Stuart and Ado have increasingly focussed on repaying what they see as their debt to the sport and to the Club, be it as Race Officers, week in week out for our Monday night dinghy racing series, running Open events, organising and captaining Club team entries for team and other racing events, and organising an array of children's sailing events, whether in Optimists, Lymington River Scows or model yachts. They know what it takes to make the best sailors and don't flinch from encouraging their charges.
Having now sailed at Lymington for nearing 70 years, Ado said the both plan to continue "As long as they're still in one piece". One XOD sailor said, "When Stuart is not at the front of the XOD fleet, Ado is."
Chris Neve, RLymYC Rear Commodore Sailing said, "The Royal Lymington Yacht Club is honoured to have the Jardine brothers as Members. Both Stuart and Ado have been at the top of this wonderful sport for 60 years through their illustrious Olympic and international racing careers. They are both also still giving so much to the Club day in and day out, whether it be the XOD Class, the juniors or in fact any Member who asks for help in improving his or her sailing. We are very grateful to Stuart and Ado for all that they do for us and also to Mary-Ann and Wendy, who have helped them every inch of the way. Long may they continue to be an inspiration to us all!"